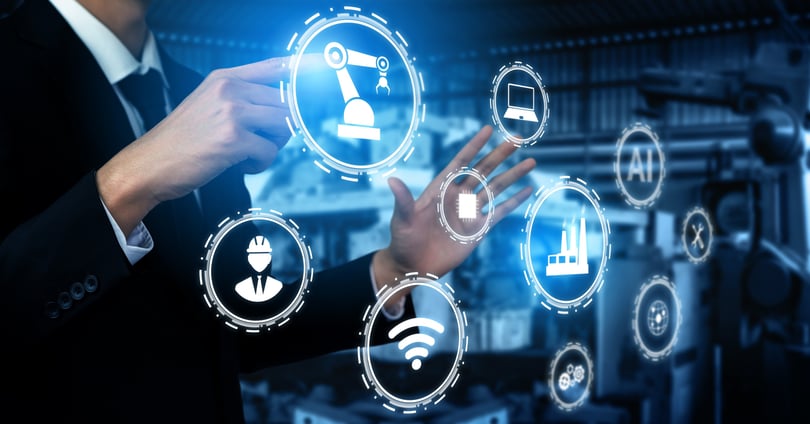 The workplace has undergone quite a number of monumental changes since the late 18th century. Now with the world nestled in the 4th Industrial Revolution (IR 4.0), trends popping up left and right show that there is nowhere to go but through digital transformation. No longer is it an option but rather a highly proven strategy to survive and thrive in the dynamic business world.
But exactly what is digital transformation and why is it important? More importantly, what lessons can we learn from some of the leading brands globally that have fully embraced it? Know more about this exciting shift in the digital world here at LiveTracking, the FastTrack MES.
Digital Transformation in a Nutshell
Digital transformation is a widespread process of integrating digital technology into all areas of an organizational structure to achieve business efficiency, value, innovation, and, of course, a competitive edge in the market. But to specify, Microsoft noted that the four primary areas of the process include employee wellness and motivation, customer engagement, optimized operations, and enhanced services and products.
However, the jump into the new era of technology isn't a walk in the park as there are many obstacles for manufacturers to move from analog to digital solutions. For one, there are just too many examples of digital technologies, and without thorough expertise, it would be time-consuming and costly before you realize what the best tech strategy is perfect for your business.
To give you an idea, PwC reported the eight major technologies that can help drive the implementation of the digital transformation of your business as follows:
3D Printing
Artificial Intelligence (AI)
Augmented Reality (AR)
Blockchain
Drones
Internet of Things (IoT)
Robotics
Virtual Reality
Without a doubt, the above-mentioned digital technologies are innovative but not all guarantee relevance and organizational success for your business. Let's take a look at the three manufacturing companies below and how they got the transformation right.
Starbucks

Starbucks, the world's largest coffeehouse chain, has had many major digital transformations in the 21st century instead of direct franchising towards international expansion. Truly a trailblazer in the food & beverage industry.
In 2009, Starbucks released its mobile app, named Starbucks Digital Ventures, to provide an integrated and user-friendly digital loyalty platform by letting customers earn and redeem Stars and rewards. As such, its overall revenue and customer base worldwide skyrocketed. It was reported in 2016 that the app had 19 million monthly active users in the U.S. alone.
Customer experience and loyalty are key business qualities for Starbucks. So, beyond serving buyers high-quality espresso shots, lattes, and desserts, the company is driven by AI and data. It launched its AI-based tool called Deep Brew in 2019 to further propel its continuous research in its brand personalization engine. It helps them manage inventory, optimize store labor allocation, and even analyze population, income levels, and competitors in the market. Not only is this digital transformation fit to boost brand presence globally, but also a faster way to get closer and be more personal with its customers.

IKEA

On a retail level, IKEA's digital transformation case study is a must-have topic. For 80 years, the Swedish furniture retail conglomerate has been in the very analog business of selling its products to people.
And true enough, it's never too late for the big box retail to step into the digital world because four years later, the Group hired Barbara Martin Coppola to guide the company through a digital transformation by specifically harnessing and strengthening its position with e-commerce. According to her, they were able to triple the brand's e-commerce levels, especially during the COVID-19 pandemic.
A year before Barbara joined the retail company, IKEA tapped augmented reality to provide a more convenient and user-friendly customer shopping experience. It collaborated with Apple to launch IKEA Place which is an ARKit mobile app that allows people to virtually replace their furniture in their home with new products.

Porsche

Much like its state-of-the-art and high-performance cars, Porsche has been on a great stride toward digital transformation. For years, the German automobile manufacturer has been utilizing several digital technologies, such as blockchain, AI, VR, and AR, in its three core areas: products and services, customers and trade, and the company itself.
Porsche's digitization also includes software development projects that are aimed at collecting customers' feedback. If manufacturing shop floors optimize efficiency with MES (manufacturing execution system) technology, Porsche's digital solution is based on the new breed of the CRM (customer relationship management) system.
Digital Transformation: A Sustainability Cause
Along with society's constant changes are adaptable and transformational measures of workforces to improve skills, tools, and abilities. Thanks to digital transformation – and its inevitable phenomenon – we see shifts like increasing competitive wages, achieving an all-inclusive work culture, and reducing operational costs highly possible. Moving forward, these trends become more and more sustainable in every way possible for human and environmental welfare.
In other words, digital transformation is not a buzzword. It's real. It's happening, and it will certainly be here to stay. And given the volatility of the digital world, there's no guarantee of a linear direction where we will be heading next. But one thing's for sure, cloud based secure software like LiveTracking are on top of the emerging trends to keep manufacturing companies like yours stay ahead of the game.